An Orange County couple has been charged with pimping and pandering in connection with operating a brothel in several high-end apartments including one right here in Irvine. According to a news report in the Los Angeles Times, investigators say they are looking for additional victims of the couple who lived in Ladera Ranch and allegedly went online to recruit women for their prostitution ring, which ran from April 2015 to January in Irvine. The man was charged with 29 counts of pandering, three counts of pimping and two counts of conspiracy to commit pandering. If convicted on all charges, he faces up to 45 years and four months in prison. The woman also faces pimping and pandering charges and faces up to six years in prison if convicted.
Arrests Made in Orange County
Prosecutors said the man recruited women for his ring through online ads and arranged meetings with clients by occasionally posing as a woman. He shot nude pictures of some of the women and posted them online in ads for his brothel, officials said. He also kept a detailed client list. Officials staked out one of the Irvine apartments, which the couple rented and saw men going in and out in 30- to 60-minute increments. Officials arrested the man and woman as they left their home. The man reportedly had more than $469,000 in cash in a storage locker when he was arrested, according to the authorities. At least 29 women were involved in the brothel, but officials fear there could be more victims. The couple pleaded not guilty to the charges and is due back in court for pretrial hearings.
Pimping and Pandering Charges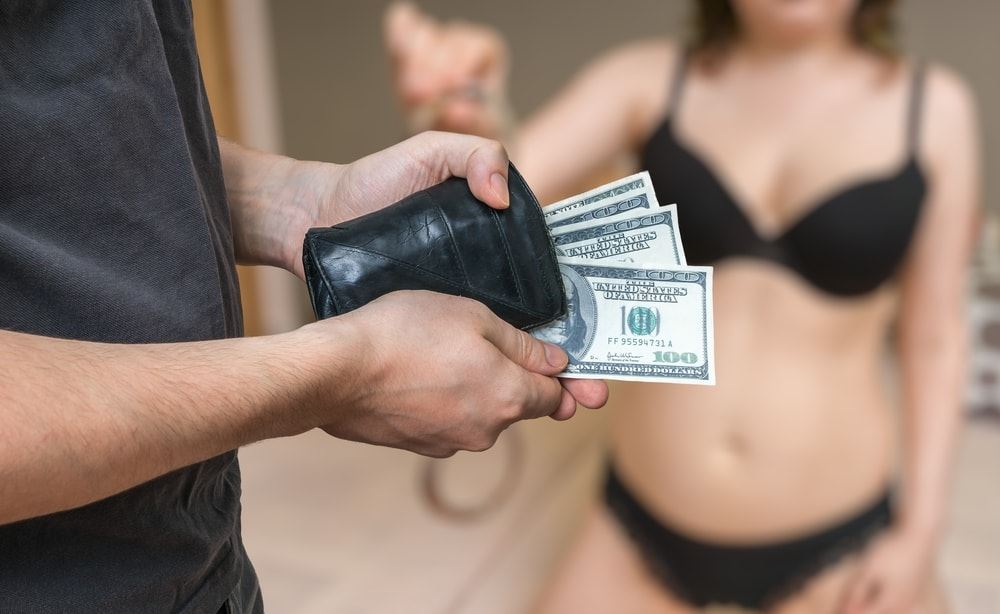 Pimping and pandering are crimes under California law and they are often charged together. Pimping is defined under California Penal Code 266h as the act of knowingly receiving financial support or maintenance from the earnings of someone engaged in prostitution. It also refers to the act of receiving or trying to receive compensation for trying to find customers for the person working as a prostitute.
Pandering occurs when someone procures another person for the purpose of prostitution; when he or she persuades that person to become a prostitute through threats or violence; finds another person a job in a house of prostitution; and uses fraud, force or abuse to become a prostitute. A person who is charged with pandering is also accused of receiving or giving any money or compensation for persuading someone to become a prostitute.
Both pimping and pandering are charged in California as felonies. Individuals convicted of these sex crimes could face up to six years in state prison per charge. However, if you are convicted of having pimped or pandered a minor under the age of 18, you could face up to eight years in prison. In addition, you will be required to register as a sex offender.
Pimping and pandering are both considered "crimes of moral turpitude" in California. What this means is if you are convicted of one of these offenses and are not a U.S. citizen, you could be deported, even if you are a legal immigrant. You won't be able to re-enter the country after leaving, become a U.S. citizen or even get permanent residency or a green card. If you engage in pimping or pandering for the benefit or in association with a street gang, you could face a gang enhancement, which automatically increases the prison term upon conviction by up to four years.
Potential Defenses in Such Cases
In such cases, the burden of proof rests on the prosecutor. This means the prosecution will have to prove that you are guilty beyond a reasonable doubt of the crimes you have been charged with. Here are some of the common legal defenses employed in pimping and pandering cases:
Entrapment: This occurs when a police officer conducting a sting operation baits the defendant into committing a criminal act, which he or she would not have otherwise committed. Entrapment can occur when a police officer talks someone into engaging in criminal behavior using pressure, fraud, harassment or intimidation. In such cases, your attorney can argue that the charges be reduced or dismissed because you were entrapped.
False accusations: These are way too common in pimping and pandering cases. A skilled defense attorney can help gather the appropriate evidence to prove that yours was a case of mistaken identity or the case of someone who lied to protect themselves.
Lack of evidence: A number of these cases are built on the basis of evidence that is gathered in undercover sting operations. If the evidence gathered against you is not admissible in court because it was illegally done, then, the charges against you must be dismissed.
Lack of criminal intent: If you got support from someone else's income earned from prostitution, you cannot be charged if you did not know he or she was a prostitute. It is also increasingly common for police to conduct sting operations online. It is easy to misunderstand someone when a conversation is being had online.
Why You Need a Lawyer
If you or a loved one is facing sex trafficking charges in California or pimping and pandering charges, you need to act quickly to start building a strong defense. When it comes to sex crimes, the damage is done as soon as the prosecutor charges you because it is announced to the media and publicized. Even if you are not convicted of the crimes eventually, your photo has probably been published in the newspaper or local news website along with an article about the alleged sex crimes.
The allegation of a sex crime is enough to taint your reputation and prevent you from being gainfully employed in the future. Needless to say, a sex crime charge can also wreak havoc on your personal life, relationships and reputation in the community. You need an experienced Orange County criminal defense lawyer who will remain on your side and fight for your rights every step of the way. Call us at (844) 285-9559 for a no-cost, confidential consultation and case evaluation.